The Way Through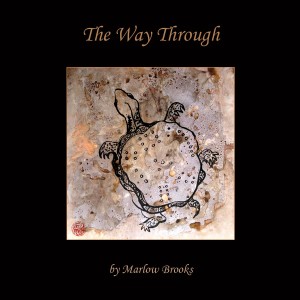 The Way Through

by Marlow Brooks
Poetry & Art with 55 paintings

2014 • $36 • 122 pages • 8.5 x 8.5″ • Paperback • Full Color

PURCHASE HERE
About the Book
An aesthetically stunning and spiritually profound book of paintings and poetry. The author takes us through a mythical journey from loss to the possibility of total freedom. Her sources of inspiration range from Divine Mother Lineages, Vajrayana Buddhism, Shambhala, I Ching, Chinese Five Element Medicine, Ancient and Shamanic wisdom, and ordinary and extraordinary experiences of birth, death, relationships, and betrayal. This book is a source of support and illumination for anyone who longs to find "the way through" life's fierce challenges to greater truth, magic, and wholeness.
Introduction
On September 11, 2013, my home in Boulder, Colorado, was destroyed in the great 100-year-flood. The sky opened and it poured mercilessly for seven days; the time period that an ancient Tibetan calendar foresaw it would take for the mountain gods to cleanse the impurities of recent times. As I waded through my art studio, I felt a strange certainty that my life as I knew it was over. It was time to move on.
As I gently peeled apart each muddy piece of art (many of which were photo-graphed before the flood and appear in this book) and hung them up to dry, I did not feel the shock of loss as much as a strange beckoning to something new. The animals, goddesses, spirits, trees, and ancient images that had leapt in ink from my recent paintings, along with the poetry I had written, provided a new home that helped me cope with other recent and devastating losses.
The way through, the thread of certainty and faith, felt thin and frail, but there was no question that many beings, embodied and in other realms of reality, were supporting and guiding me. It was with the help of these beings that most of the art in this book was created. First, I spontaneously painted the backgrounds and then waited days or often weeks until I could see who and what arose. Then I simply drew what I saw with brush and ink, sometimes straight from my imagination or often copied from ancient images. The notes at the back of this book describe my process and each image in detail.
This book mirrors a deep connection cultivated for nearly forty years with Tibetan Vajrayana Buddhism, the Shambhala Terma, and the immense good fortune of working with teachers of profound realization and wisdom. Having had the great blessing of being with my teacher, Chögyam Trungpa Rinpoche, days before his last words were spoken, I heard directly of his great concern for the state of our Earth and the urgency for her care. He emphasized the need to move below institutionalized religion to a more personal and natural way of living and communicating.
I took my teacher's words to heart and continued to enrich my deep connection and love for ancient and Asian cultures. Whether it be through the practices of art, medicine, science, philosophy, poetry, or spirituality, their foundations remain to this day rooted in their ancient and highly sophisticated knowledge of the cosmos and intimacy with the natural world.
I studied Classical Five Element acupuncture inspired that with the knowledge I received in that degree, I could work with the spirits of plants to achieve the same results as needles. I continued my study of Chinese and Japanese calligraphy whose every image and stroke is rooted in the movements of nature. I studied the great Chinese classic I Ching (Yi Jing), the Tao Te Ching (Dao De Jing), and anticipated with fervor each new translation of the ancient Chinese medical texts. All of these great teachings offered wisdom springing from first-hand experiences of the vitality and movement of the natural world.
The most mysterious, yet unshakable connection, revealed in this book is my place in a family of "Mother Lineages," which are, in the words of my dear friend and mentor Kobun Otagawa Roshi, "ancient, earth-based, and feminine." Whether on the top of Huang Shan Mountain in China, or at the ancient Kibune Shrine in Japan among the giant cedars ceremoniously encircled with braided white ropes, or at my cabin in the Rocky Mountain wilderness, these beings have called to me for years to bring voice to their aspirations and prayers. Thus, it is with great humility and respect that I call on their messages to move through me and bring even a sliver of benefit to this magnificent and ailing Mother Earth and those who inhabit her.
–Marlow Brooks